All utilities mark their facilities in accordance with the American Public Works Association Uniform Color codes listed below: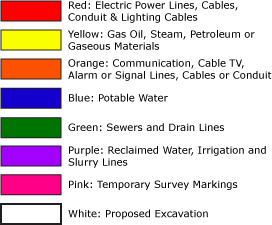 Hand digging is required within 2 feet of either side of the underground facility markings, according to Idaho Code. Depth of the underground facility is not guaranteed.
Using white paint to mark the area of excavation prior to your underground facility locate will help locators correctly mark the area of excavation as well as save time.
Directions you give for locating an underground facility should be stated using north, south, east, and west directionals if possible. Landmarks are also helpful.
After a locate has been performed in an area, it is the responsibility of the party requesting the locate to reference or maintain the locate marks during the construction period.
WHAT TO DO IF YOU HIT AN UNDERGROUND FACILITY
Protect life and property-in that order. If leaking gas or high voltage is involved call 911. Gas explosions often result from breaks in the gas line near a building, filling the basement with gas. The break is often not at the place where the line was hit. Evacuation of the building and the surrounding area is critical. Call the local utility damaged to report the damage and arrange for repair. Document the details of the hit, including your one-call ticket number, where the marks are, where you hit the line, the safeguards you took, and any other evidence you'll need to support your claim that you did all that was required of you as the contractor. Remember to call DIGLINE 2-Business days before you dig to avoid cutting underground utility lines.
---
Call 811 Before You Dig!