Frequently Asked Questions
How deep are the underground utility lines buried?
Utility lines are usually installed prior to any new construction. If any grading, leveling or changing the slope is done this will change the depth of any underground utility lines. Natural ground settling will change depth also. After utility lines have been marked hand – dig within 2 feet on either side of the markings to avoid damage.
How can I get an underground utility line, meter box, or PED box moved or relocated?
To have this service done, contact the customer service department of your service provider. To avoid confusion, request to have their facilities MOVED not relocated.
How much will it cost to have underground utilities located on my property?
This is a free service provided by your local utilities.
What color does each utility use to mark their individual lines?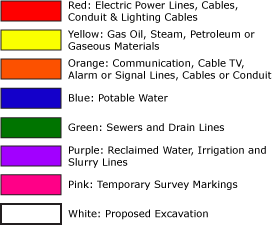 Why aren't my water and sewer lines located?
Water and sewer facility owners will only locate up to their meters next to the road right-of-way. It is your individual responsibility to contact a private locator to have the water or sewer service line from your meter to your home located. These service lines are installed by the contractor or his agents and are the property of the homeowner.
Am I clear to dig if the 2 days are up?
NO! If you arrive on the site and a specific utility's marks are not visible. You must call the utility direct or Dig Line and issue a 2nd request. Utilities have an additional 8 business hours to respond. Down time up to $800 can be charged if the utility does not respond within those 8 business hours.
Who do you call to have a utility line buried?
Contact your service provider's Customer Service Department Directly.