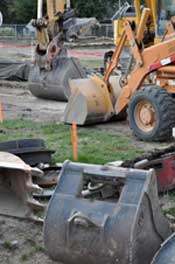 Waive the Disclaimer:
Cut down on the time you spend on the phone. You can opt out of hearing many of the standard disclaimers during your call. Click here for more info.
Types of Locate Requests
There are various types of requests depending on the type of work and when the request is needed. See a complete list and description of Header Codes.
Excavator's Handbook:
The latest Excavator's Handbook is now available. Just Contact Us requesting a copy of the handbook and we will mail it to you. It also includes a copy of Idaho's Dig Law.
Utility Location Color Code
All utilities mark their facilities according to APWA Standards. These colors denote various facilities on flags or painted markings.
Remote Entry:
File tickets online and get your ticket number right away. No more holding waiting for an operator. You can input your tickets with Web Ticket Entry. It's easy and can be done anytime.
Before You Dig
Requesting utilities to be marked is only the first step in damage prevention. Allow the required time (2 Business Days) for utilities to mark their facilities. Respect the marks and Excavate with care.